Join the CentralApp Talent Exchange
CentralApp is seeking tech professionals to join our workforce serving clients across the country.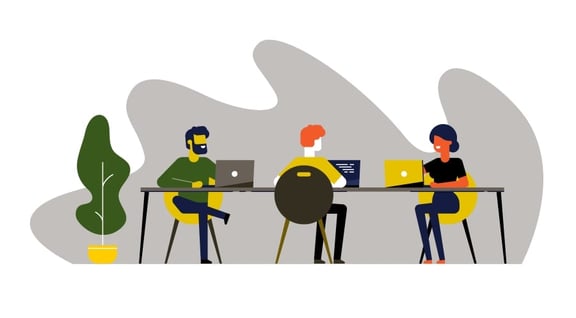 Successful applicants will be admitted to the CentralApp Talent Exchange, a free, invite-only network of tech professionals. Those invited to work through the Talent Exchange will gain access to work opportunities from CentralApp's client base and have the chance to work with other highly qualified tech pros.
Work opportunities include short-term (project-based) work, long-term contract work, or W2 employment. We connect you to work based on your unique interests, needs, and preferences.
To gain an invitation to participate in the CentralApp Talent Exchange, individuals must complete the application process, submit relevant work examples and history, and complete an interview. Only the most qualified applicants will be invited to work through the Exchange. CentralApp does NOT charge an application or a membership fee.
Work hours are flexible, and you can work from home as long as you are based in the United States. We are particularly looking for candidates working and living within the Appalachian region. Talent Exchange members are not employees of CentralApp. Rather, they are self-employed or freelance contractors.
Some permanent (W2 employment) placements may be made available to Talent Exchange members. However, such placements will require a separate application process at the time the positions are announced.
Requirements: Experience working in a technical field such as Salesforce development, web development, app development, data science, machine learning, or cybersecurity.
Apply: To apply, complete the application form and submit your resume (required). We also encourage you to attach a cover letter detailing why you believe you would be a good fit for the Talent Exchange.
Contact: To learn more about this position, please contact Todd Cope at (304) 470-3004 or send an email to hr@centralapp.us.
Equal Opportunity:
CentralApp does not discriminate on the basis of race, color, religion, gender, sexual orientation, gender identity, national origin, age, disability, genetic information, marital status, amnesty, or status as a covered veteran. Reasonable accommodations are made for qualified individuals with a disability when requested.
About CentralApp:
CentralApp is a tech talent firm connecting companies across the U.S. to qualified, skilled technical workers located throughout the Appalachian and southeast region. We provide a diverse client base of companies seeking short- or long-term contractors and full- or part-time employees.
Anyone authorized to work within the United States may apply. We are particularly interested in sourcing talent from the Appalachian region.
How are projects assigned?
Once CentralApp has secured a commitment for work from a client, the work opportunity and its associated requirements will be distributed to Talent Exchange members for review.
Project requirements may include:
Skillsets
Example: experience with cloud ERP systems preferred


Certifications
Example: Active Salesforce Developer I certification


Desired project outcomes
Example: "Create a work flow to..."


Staffing and availability
Example: must be available for team meetings from 10 a.m. to 10:30 a.m. M-F for the next three weeks
To be considered for job opportunities, Talent Exchange members must respond indicating their interest and availability within the time frame specified. Based on responses, CentralApp will assign one or more team members to the project according to the following criteria, narrowing the pool in this order:
Relevant experience and qualifications
Availability
Contractor reviews and ratings
How much do projects pay?
CentralApp will set offered rates for each project based on a variety of factors:
Market value of the project at hand
Skills required
Delivery window (for example, end-of-the-year or end-of-the-quarter projects may warrant peak rates if project volumes are high and time or availability is limited).
Currently, rates range from $15 to $55 per hour depending on the job or project.
How often do members work?
Talent Exchange members can work as often or as little as they like, assuming they possess the skills, availability, and ratings to secure project assignments.
Members are generally not asked to adhere to any specific work hours or work from any particular location. However, contractors may need to participate in meetings with clients or other team members from time-to-time to satisfy project requirements. CentralApp expects its contractors to deliver projects on time as outlined at the project's start and to work closely with project managers to ensure timely delivery and meet client needs.
CentralApp does NOT guarantee to provide any member with a certain number of work hours or projects.
Are Talent Exchange members employees of CentralApp?
No, members are independent contractors who choose whether or not to accept offered job opportunities on a case-by-case basis. Talent Exchange members are responsible for following self-employment laws and regulations for the state in which they are based. This includes adhering to federal and state tax codes.
Some permanent (W2 employment) placements may be made available to Talent Exchange members. However, such placements will require a separate application process at the time the positions are announced.